Serving Size: 6 — 8

*Dairy and nut free; can be gluten free

Prep Time: 20 minutes

Cook Time: 1.5 — 2 hours

Total Time: 2.5 hours
"If kids can learn how to make a simple Bolognese sauce, they will never go hungry. It's pretty easy to cook pasta, but a good sauce is way more useful."

Emeril Lagasse
An ultimate Nonna comfort food…
Pasta in a bolognese gravy (and it is a gravy) is a family favorite on a dark and stormy night, or any other night for that matter. While it does take time, a bolognese is a meal that can easily be turned into multiple meals. It is worthwhile and a huge favorite of mine. It refrigerates and freezes well and reheats to be the same meal you made the first day you made it.
Ingredients
2 Tbsp olive oil
1 med. onion, chopped
1 lb ground chuck beef
1/2 small carrot, pared and finely chopped
1/2 stalk celery, finely chopped
1 c. dry white wine like Pinot Grigio or a Chardonnay
1/2 c. milk
1/8 tsp ground nutmeg*
1 (14.5-oz) can crushed OR peeled tomatoes
1 c. beef broth
3 heaping Tbsp tomato paste
1 tsp salt
1 tsp dried basil, crumbled
1/2 tsp dried oregano, crumbled
Dash of ground pepper
1 bay leaf
1 lb uncooked pasta** cooked in heavily salted water (don't be shy with that salt unless you have to!)
1 c. freshly (optional) grated Parmesan cheese
*Since this is such a small amount, it is not essential to the recipe, but it adds a nice flavor to the bolognese. It also doesn't have to be meticulously measured as long as you don't just dump it because then it can definitely be too much.
**We usually use penne or rigatoni, but any pasta that will hold the gravy well works, too! It is reallllly satisfying when the meat can fit inside the pastas.
Directions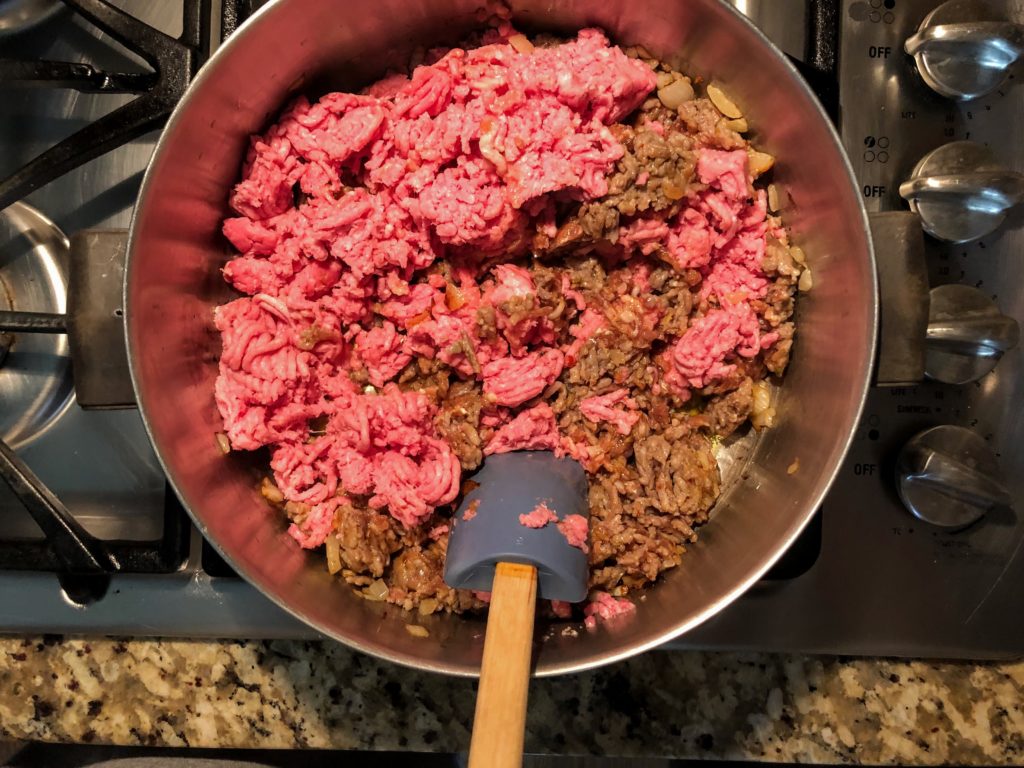 1. In a 12 inch skillet or a large stew pot, heat the olive oil over medium heat. Add the onion and saute until soft, 4 or 5 minutes.
2. Add the beef to the skillet for about 6 minutes or until the meat loses its raw color. Break the meat into fine pieces.
3. Stir the carrot and celery into the meat mixture over medium-high heat for about 2 minutes.
4. Stir in the wine and cook for approximately 5 minutes or until the wine is evaporated.
5. Reduce heat to medium and stir in the milk and nutmeg. Cook until the milk is evaporated, approximately 3 – 4 minutes.
6. Stir the tomatoes, beef broth, tomato paste, salt, basil, thyme, pepper, and bay leaf into the meat mixture. Heat to boiling and then reduce the heat to low.
7. Simmer, uncovered, stirring frequently until most of the liquid has evaporated and the gravy is thick, approximately 1 – 1.5 hours. You can remove the bay leaf after this if you wish.
8. About 20 minutes before you are ready to serve, cook the pasta in a large pot of heavily salted water (we probably add a couple of tablespoons) until al dente to the tooth, about 8 – 10 minutes (al dente is slightly underdone, the pasta is cooked all the way through, but remains slightly firm). Make sure the pasta is well-drained.
9. Pour the pasta into a large heated bowl or dish (we usually heat the dish in the oven with any sides we make to keep the bolognese warm, but you don't have to), ladle the gravy on top.
10. Sprinkle Parmesan cheese on top and enjoy!
Note: Occasionally, Nonna will add a 1/2 lb of hot Italian sausage. She will remove the casing and fry it separately. After the ground beef is browned, add the sausage to the beef and increase the liquid ingredient amounts by half. The bolognese can also be used on top of Manicotti.